Thesaurus Indogermanischer Text- und Sprachmaterialien
Ogam-Inschrift: CIIC-Nr. 031
Ogam Inscription: CIIC no. 031
Original location: Fiddaun Upper
County: Kilkenny
Surroundings: Farm field
Year of discovery: 0
Actual location: =
---
Illustrations:



---
---
Actual reading:
Latin Transcription: DRU[G

Ogam Transcription: ìòñä[ð

Ogam Transliteration: ëëïïïïïâââ(ï)[ïâçç ïâëë || ççæï ]

Direction of reading: du-sd (?)
---
---
Other readings, history, comments etc.:
Location and history:
The stone stands in a field below a recently planted forest, high off the road. According to Macalister, CIIC, it was found by one J. Pilsworth from Thomastown (about 1940).
Published illustrations:

Macalister, CIIC 36 (draft).
---
DRUGNO MAQI MUCOI [....] NAMI
The latter name was "wilfully mutilated". Only the H-part of G2 is secure. 1N is "traceable". OMA is "traceable, though for some reason indistinct". QI is "quite clear", but the I is nearly extended into the Q. 2M is "traceable", the U is "gone". Of 2N, only N4,5 are certain. As the stone stands within a distance of 7 mls. to the barony of Idrone East, Co. Carlow, this barony's name might be connected with the one of the "owner" of the monument.
---
DRUGNO MAQI MUCOI [4/5] N&127;AMI
According to Macalister's draft, only 2 strokes of 2N exist, so that L,V,S,N are possible.
---
Reading Gippert (1978):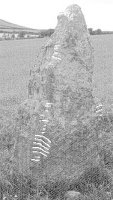 Dexter angle up - sinister angle down (?):
DRU[G
ìòñä[ð
ëëïïïïïâââ(ï)[ïâçç ïâëë || ççæï ]
The reading has to be checked again, especially because of the reading of the top and the direction of the inscription on the sinister angle.
---
Additional literature:

JRSAI 70, 1940, 92 (Pilsworth, Macalister)
Last changes of this record: 23.04.97
Copyright Jost Gippert, Frankfurt a/M 1996. No parts of this document may be republished in any form without prior permission by the copyright holder.