Thesaurus Indogermanischer Text- und Sprachmaterialien
Ogam-Inschrift: CIIC-Nr. 049
Ogam Inscription: CIIC no. 049
Original location: Baltinglass ?
County: Wicklow
Surroundings: ?
Year of discovery: 0
Actual location: Dublin, N.M.
---
Illustrations:

---
---
Actual reading:
Latin Transcription: ]CI MA[Q

Ogam Transcription: ]ξμεδζοβξ[ν

Ogam Transliteration: ]λλλλβββββοβλλλ[λλ

Direction of reading: "du (?)"
---
---
Other readings, history, comments etc.:
Location and history:
According to Macalister, CIIC, "nothing is recorded of the history of the stone, except the statement in the Museum register, that the fragments came from the neighbourhood of Baltinglass". It consists of two fragments.
First fragment:
Size according to Macalister, CIIC: 2'2" x 1'9" x 0'8".
---
..CCI MAQ..
"Only C34 of the first letter remains, C12 being broken away. C3 is also fractured. C4 is prolonged slightly downward, but it cannot be treated as M."
---
Reading Gippert: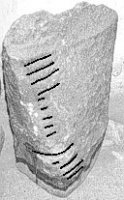 "Surface angle, down":
]CI MA[Q
]ξμεδζοβξ[ν
]λλλλβββββοβλλλ[λλ
The remnants at the end rather point to a M-class letter, e.g. R, than a Q. As against Macalister's reading, the C is perfect.
Second fragment:
Size according to Macalister, CIIC: 2'2" x 1'7" x 0'11"
---
...INI...
This is "evidently the top of the stone. The lettering is badly injured .."
No new reading available
Only the first fragment was identifiable when visiting the Dublin NM in 1988).
---
Additional literature:

Macalister, PRIA 34, 1916, 400.
Last changes of this record: 23.04.97
Copyright Jost Gippert, Frankfurt a/M 1996. No parts of this document may be republished in any form without prior permission by the copyright holder.