SEER
Scholars Engaged in Electronic Resources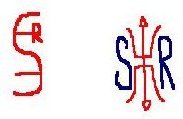 Informations on Transcription and Transliteration Systems
This page contains informations about progress in the development of transcription and transliteration standards for non-Latin scripts. It consists mostly of links to organisations and/or people concerned with this.
Please send additional informations (pages, URLs, links) to Jost Gippert

12 Dec. 1997

The logos used in this page were provided by Vlad Anastasiu.
---
The page's Web-Counter says that you are visitor number
since 12 Dec. 1997.