Thesaurus Indogermanischer Text- und Sprachmaterialien
Ogam-Inschrift: CIIC-Nr. 004
Ogam Inscription: CIIC no. 004
Original location: Kilmannia
County: Mayo
Surroundings: Church
Year of discovery: 0
Actual location: Dublin, NM
---
Illustrations:


---
---
Actual reading:
Latin Transcription: LUGADDON [MAQ]I LUGUDEC || DDISI M[(O)]CQU SE[L]

Ogam Transcription: идрвммгкйж[пвон]еджидрдмеом || мжмедкиеджп[г]омонджкег[и

Ogam Transliteration: ззвввппвллллввззззз[пвллллл]вввввззвввппвввллввввллллл || ллжллвввввззззвввввп[вв]лллллллллвввззвввв[зз

Direction of reading: du-tr-sd=du-tr-sd
---
---
Other readings, history, comments etc.:
Location and history:
According to Macalister, CIIC 1, 6, Fn. 1, the locality is called Kilmannia in the O.S. map, but the stone is often referred to as the "Kilmannin stone". It was discovered [when?] by one Constabulary-Sergeant Lyons, "built into the wall of an old church". It was [when?] removed to the National Museum, Dublin, where it is marked no. "XLIII".

Size according to Macalister, CIIC: 4'0" x 1'8" x 1'0"
Published illustrations:

Macalister, CIIC 1, 6 (draft).
---
LUGADDON MOTI LUGEDEC | SELA
---
LUGADDON MAQI LUGUDEC || DDISI MO[..]CQU S(?)EL
The stone is "inscribed on all four angles, grouped two and two, in each pair up-top-down". - "Rhys turns MAQI into MOžTI, and takes in a small fracture on the angle following 2G .. to turn the last word into LUGEDEC." - In the second part, a "fracture follows the O, large enough to contain two scores or notches". The second but last letter is an S according to Rhys, but S2 and S3 are joint, so that they resemble the U-Forfid; this would yield a reading BUBEL or BUABEL. There is no A after the final L, but "only a fracture .. on the B-surface". Should we suppose a "retroverse reading" Decuns o Micill `Diaconus de [ecclesia sancti] Michael' - "which is worth recording, if only as a warning that nothing is to be expected from this expedient"?
---
LUGADDON MA[Q]I LUGUDEC
[N.B. The second part of the inscription is not mentioned in the book at all!]
The Q can be restored with confidence between A and I. MAQI with -I is preserved "by tradition" as against apocopated name forms. The inscription has to be dated into the end of the 6th cent. because of the syncopated LUGADDON < LUGUAIDONAS.
---
LUGADDON MAqi LuGUDEC, DDISI MO...CQU SEL
---
Reading Gippert (1988):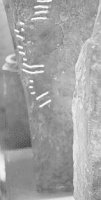 Frontal: Dexter angle up - top -

sinister angle down || Back:

dexter angle up - top - sinister angle down:
LUGADDON [MAQ]I LUGUDEC || DDISI M[(O)]CQU SE[L]
идрвммгкйж[пвон]еджидрдмеом || мжмедкиеджп[г]омонджкег[и
ззвввппвллллввззззз[пвллллл]вввввззвввппвввллввввллллл || ллжллвввввззззвввввп[вв]лллллллллвввззвввв[зз
The DD is written with a large gap in between so that ом = C can be excluded. - The sinister angle of the back side could not be photographed because of the arrangement of the stone in the basement of the National Museum.
---
Additional literature:

JRSAI 37, 1907, 61: Rhys.
Last changes of this record: 13.04.97
Copyright Jost Gippert, Frankfurt a/M 1996. No parts of this document may be republished in any form without prior permission by the copyright holder.